Who You Know Could Be Worth A Thousand Thanks!
The Employee Referral Incentive Program (ERIP) is an integral part of our overall recruiting strategy and encourages employees to utilize their existing contacts and networks as potential sources for qualified candidates.

ERIP awards $500 for regular jobs, $1,000 for moderately hard-to-fill jobs, and $2,000 for most difficult-to-fill jobs to employees whose referral of an external candidate leads to a successful hire. Award payments are made one month after the successful referral reports to work.

There is no limit on the number of referrals an employee can make, and there is no limit on the number of awards an employee can receive.

Making a Referral
(1) Navigate to the Laboratory's Careers Page at jobs.lbl.gov and click the box for Current Berkeley Lab Employees to ensure you are logged in with your Berkeley Lab ID.
(2) Search for the position you want to refer, then click on the job to open the detailed view. If you scroll all the way to the bottom of the job, you will see if it is eligible for a referral bonus, including the referral award amount.
(3) If you link your social media accounts to your profile, you will be able to use Facebook, Twitter and LinkedIn to recommend the job.
(4) When you recommend this job, you will be able to select the social media channels, or just grab a link to the job, which you can email or text to friends.
Checking the Status of a Referral
(1) While logged into the Careers site as an employee, scroll to the bottom right of the page and click on My Submissions.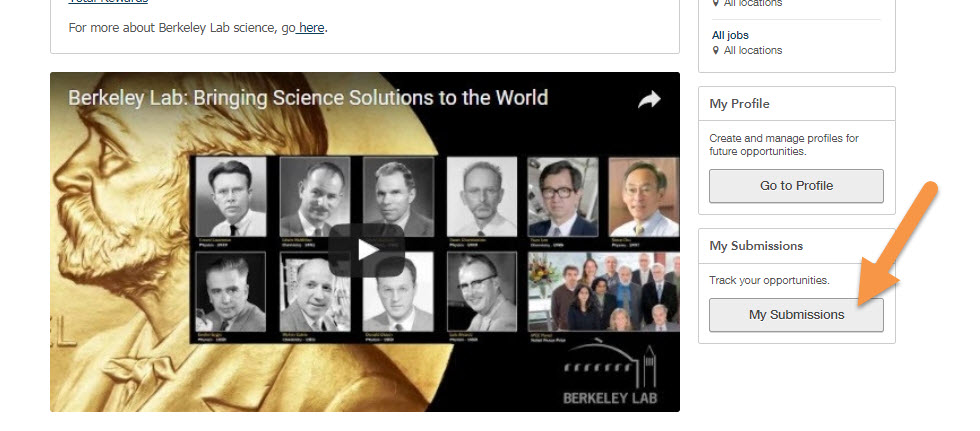 (2) Click on the tab My Careerpage and click on My Referrals.
(3) You will be able to see the status of the referral. In this example, I can see that someone completed a job submission but is not hired.
More information about this program is available in the Employee Referral Plan Provisions Document and Frequently Asked Questions.
For additional questions, please call HR Shared Services at 510-486-4772 (HRSC) or email hrsc@lbl.gov.